PRESS RELEASE:
MOMs marks Children's Day, 20th year of UN Convention, with petition urging BC Premier to honour promises to kids
NOV. 19, 2009:—This Friday, Nov. 20 marks the 20th anniversary of the UN Convention of the Rights of the Child – a date that is also celebrated annually in Canada and elsewhere as universal Children's Day.
The MOMs provincial family support network, which has staged a series of actions in recent weeks to draw attention to BC families' concerns about new cuts and ongoing gaps in critical services for children at risk, is marking the occasion by officially launching an online petition urging BC's Premier to start living up to commitments made to BC's vulnerable children.
 1. Families gather in Langley to protest Autism cuts 
Thanks to all the families who came out to Langley Friday for the rally co-hosted Friday by MOMS and FAIR (Families Fighting Against Autism Intervention Reductions) to highlight autism cuts. (Especially the heroic Victoria folks who got up at 5 am to pack up kids & minivans to make it!!).
A great family turn-out, strong local media interest & fantastic public support more than made up for the horrible weather.  Mary Polak decided to close her office for the day, but no one seemed too offended. later, parents distributed hundreds of flyers (attached) explaining the impact of cuts & why they are so foolish, inhumane and short-sighted.  
Check out a mini U-tube clip  or photos of the energetic FAIR families on their Facebook page (pls join to show support while you're at it!) 
Next rally:
Friday, November 13 at 12 noon
Premier Gordon Campbell's MLA office, 3615 West 4th Ave in Point Grey, Vancouver. 
This rally is organized by FEAT BC (Families for Early Autism Treatment) to highlight concerns over Minister Polak's cancellation of the direct funding option in the autism program. FEAT families supported the EIBI rally in Langley and we encourage other families to show support for their concerns. We're all in this together! ...and hopefully the BC government will start to see that we're not going away and we're not shutting up!
2. Next Steps: Broader  MOMs campaign
Despite rallies, meeting, letters, calls & emails, government is still not listening. In addition to recent cuts to vital children's services (e.g. IDP, SCD and EIBI), Premier Campbell has failed to honour his promise to children with special needs and children at risk by fixing existing problems: waitlists, underfunding of Special Education, denial of early intervention services to many children, repeal of the IQ 70 limits to access services. 
So MOMS is planning an extended next phase of action that takes our message directly to British Columbians, who have demonstrated strong support wherever we've created awareness of these concerns.
HOW YOU CAN HELP: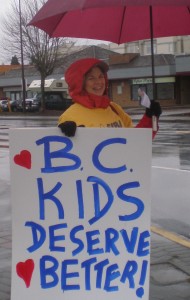 We need financial support for this next phase to develop and run targeted ads and public service announcements in local community media, explaining why the cuts and the failure to fix other gaps for special needs and kids at risk is foolish, short-sighted and inhumane. We'll be urging British Columbians to take a simple step to indicate their support & join us in telling their MLAs, Premier Campbell and Minister Polak that BC's vulnerable kids deserve better and that cutting now means paying more later.
Please contact us if you can provide financial support or if you have potential leads or connections to other organizations in your community who can support this campaign. MOMs has already received our first grant (a big thank you to BC FamilyNet Society for helping to cover recent rally costs!!). Since having $$ is a first for MOMS, we are making arrangements with a "blue chip" registered organization to receive and manage further donations on our behalf.
 
Thanks for all those supporting us by participating or behind the scenes! With your support, we can do it! And when we actually get out and hear the fantastic public support out there, it makes all the effort worthwhile!!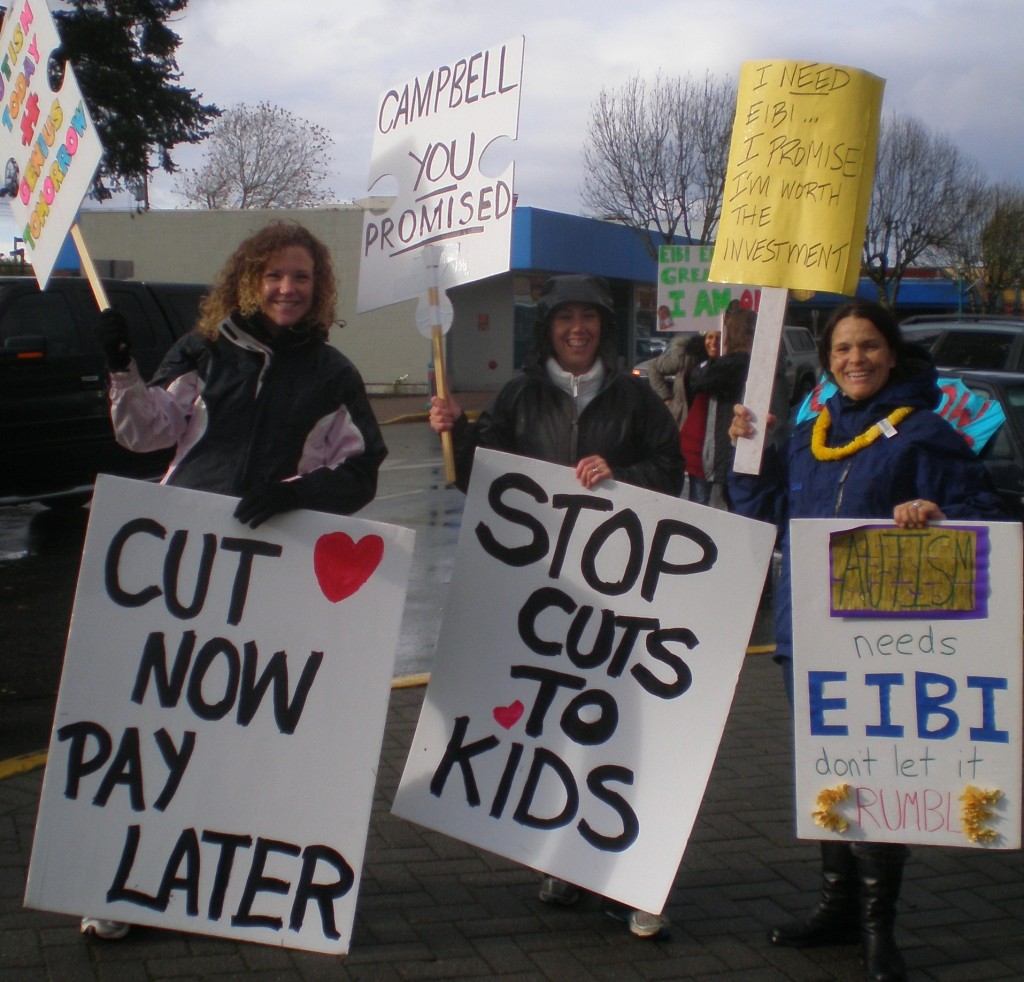 Tell the BC government that investing in children is a top priority . (Deadline for 2010 Budget input: Oct. 23)
(Please distribute widely, with apologies for cross-postings!)
Vancouver, October 13, 2009
Premier Campbell's  forgotten promise:
BC government's 2006 - 2009 Strategic Plan: 5 Great Goals for the Golden Decade:
Goal #3: 'Build the best system of support in Canada for persons with disabilities, those with special needs, children at risk, and seniors.'
Three years later, the BC government has forgotten all about about Great Goal #3. We've seen no improvements in supports for children and youth with special needs. Existing systems are being dismantled and services cut, with no effort to resolve long-standing service gaps:
Intensive intervention programs for autism axed, despite overwhelming need & evidence these programs work well & expert advice that direct funding is not an effective alternative for many.
Parents who effectively manage autism funding forced to switch to Ministry-administered payments. This will create new problems, including delays and higher costs
Provincial offices that provide direct services including oversight, coordination, training and standards for community Infant Development Programs and Aboriginal IDPs to be axed.
Axing of the provincial Supported Child Care office, which was recently created to resolve problems from the lack of oversight, coordination, training & consistency in local SCC programs.

URGENT NOTE

: A month's notice won't allow SCC staff to properly transfer roles. Pls. urge govt to at least extend these roles to March 2010 to permit an orderly transition.